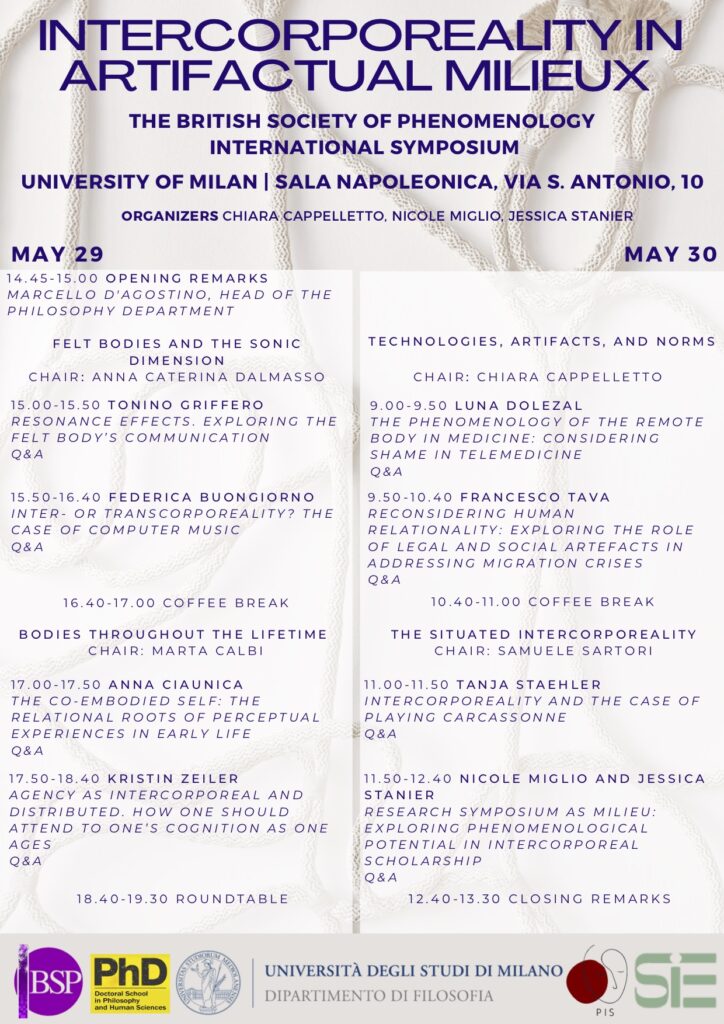 Intercorporeality in Artifactual Milieux
29-30 May 2023
PIS PI Chiara Cappelletto and PIS member Nicole Miglio's proposal submission to the British Society for Phenomenology's International Symposium has been accepted!
We are working with Jessie Stanier (University of West England, BSP) to host, in Milan, the very first International Conference co-funded by the BSP, the Department of Philosophy (University of Milan), and the Graduate School (University of Milan).
In Maurice Merleau-Ponty's essay Le Philosophe et Son Ombre, dedicated to Edmund Husserl, we read that "the other and I are 'organs of the same intercorporeality.'"
As bodily subjects, we occupy a space that is not neutral or merely physical and not strictly "outside" us. Rather, the interweaving of our selves passes through our bodily involvement with our and others' sensoriums and with objects, devices, and tools.
These forms of intertwined interactions arise in selves' lived spaces, as the very co-constitutive material elements of our intercorporeal situatedness. We invite scholars to reflect on the idea that the notion of intersubjectivity emerges from and comes back to intercorporeal experiences of the self in artifactual milieux.